\
Mega Church Integrated Project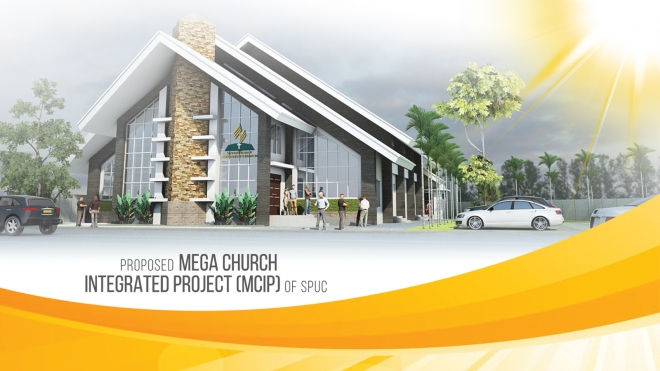 At the start of the quinquennium, MCIP or the Mega Church Integrated Project was launched as a program to raise funds in order to build "mega" churches within our vast territory in South Philippines. As voted by the union Executive Committee, one mega church will be built each year from the MCIP fund. And according to plan, one mission or conference becomes a beneficiary of the project per year, and they take turns until everyone is served. The cycle is designed to keep running until Jesus will come!
This program is not only about building huge churches but also includes the building of chapels in three (3) different categories:
| | |
| --- | --- |
| Mega Church | - Highway church in big cities |
| Municipal Church | - Medium churches in small towns |
| Barangay Church | - Small churches in barangay settings |
 To support this initiative, MCIP suggests that every member of SPUC territory would commit to the Lord by segregating for the project One Peso a Day (OPAD), a very small sacrifice for a very big dream. This is a relatively small sacrifice because 1 peso per day is dwarfed compared to a mobile combo pack that gives us unli calls, texts, and FB on our cellphones every day.
Already proven as "best practices" of some homes and churches, here are a few suggestions to make make MCIP a great success:
1. Homes:
Each family member may store his/her coins in a purse or box at home. Usually, everyone can keep more than one peso of change from work, school, or grocery. And most often we use these coins for fair and school allowance the following day. Therefore, it is suggested that we segregate a special offering for MCIP in a special place.

Every amount prepared from home is to be brought to church every Sabbath and placed in the MCIP box.

For most people, one peso a day (OPAD) is far too small and no one is, therefore, limited to give more than their heart's ability to give.
2. Mission, Conference, and Institutions:
Denominational employees of our missions, conferences, and institutions like our schools and hospitals are authorizing automatic deductions from their salary for their MCIP contribution for the whole year.

Aside from their salary deducted contribution, workers and employees still drop their extra coins in the church to set as examples and encouragement to our members.
3. Local Church:
Devise and place a special box at a conspicuous place near the pulpit where church goers can drop their weekly MCIP offering. 

MCIP contributions can also be received as specified offerings during the receiving of tithes and offerings in the Hour of Worship.

Local church treasures will give a periodic report to update the members of the fund. He or she then turns over the money together with the tithes and offerings to the pastor or the conference.
These are only suggestions, and churches may innovate ways that are relevant and workable in their local setting.
Mega Church Updates
MCIP also means "Missionary Church Integrated Project." It implies that our purpose of giving is a missionary work where we surrender our pockets to God in order to help others. 
Everyone is enjoined to take part in MCIP so that many more churches would be built to bless and glorify the Lord. Rest assured of God's promise to us all: "And if men will become channels through which heaven's blessing can flow to others, the Lord will keep the channel supplied." EGW, Counsels on Stewardship, p. 36.
---
For online donations, contact us.
Our Beliefs
Seventh-day Adventist beliefs are meant to permeate your whole life. Growing out of scriptures that paint a compelling portrait of God, you are invited to explore, experience and know the One who desires to make us whole.