South Philippine Union Conference (SPUC) of the Seventh-day Adventist Church is one of the 11 regional offices of the Southern Asia-Pacific Division. It oversees the work of spreading the gospel in the islands of Mindanao that extends to the northeast including the islands of Dinagat and Siargao, to the north including the provincial island of Camiguin, to the west including the islands of Basilan, Sulu, and Tawi-tawi, and the south that includes the islands of Sarangani and Samal. 
SPUC works with eight regional headquarters called missions and conferences in the territories of Zamboanga Peninsula, Western Mindanao, North-central Mindanao, Northeastern Mindanao (Caraga), Central Mindanao (Bukidnon), Southern Mindanao (SoCSKSarGen), Davao which has given rise to another mission entity of the Northern Davao. SPUC also oversees the work of 3 educational institutions, namely, Mountain View College in Bukidnon, South Philippine Adventist College in Managa, Davao del Sur, and Adventist Medical Center College in Iligan City; and the work of 4 medical institutions, namely, Davao Adventist Hospital, Gingoog Sanitarium and Hospital, Adventist Medical Center-Valencia, and Adventist Medical Center-Iligan. 
TERRITORIAL MAP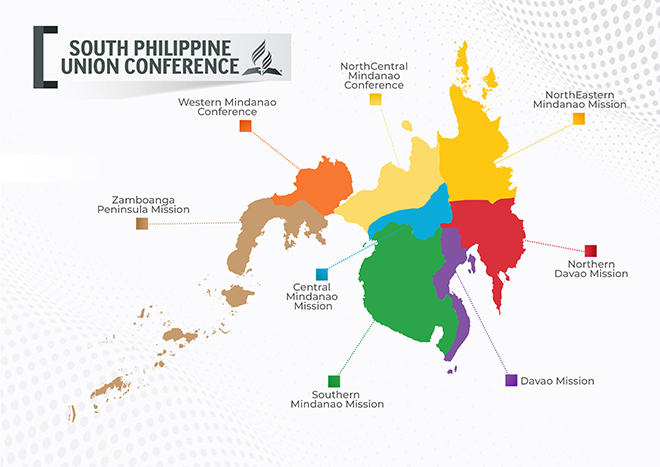 The vast territory of Mindanao has 27 provinces, 33 cities, 422 municipalities, and a population of 25,537,691 (2018). The church continues its mission through a variety of ministries via 14,794 care groups, 2,133 churches, 311 districts with 342 pastors and 1,592 institutional workers. Playing an important role in the steady growth of Adventism in Mindanao are the spirited collaborative work of pastors, workers, and members, the influence of medical and educational institutions, and the overwhelming ministries of radio, TV, and social media.
Membership
At the end of 2018, exactly 100 years since Adventism set foot in Mindanao in 1918, SPUC celebrated its centennial with a half a million membership mark. To date, SPUC has a total baptized membership of 669,638. With the total population of more than 25 million for Mindanao, the ratio of baptized Adventist members to its population could be estimated at 1 Adventist for every 37 people.
Our Beliefs
Seventh-day Adventist beliefs are meant to permeate your whole life. Growing out of scriptures that paint a compelling portrait of God, you are invited to explore, experience and know the One who desires to make us whole.