The official newsletter of the South Philippine Union Conference the Seventh-day Adventist church
Northern Davao Mission Conducts Adventist Media Training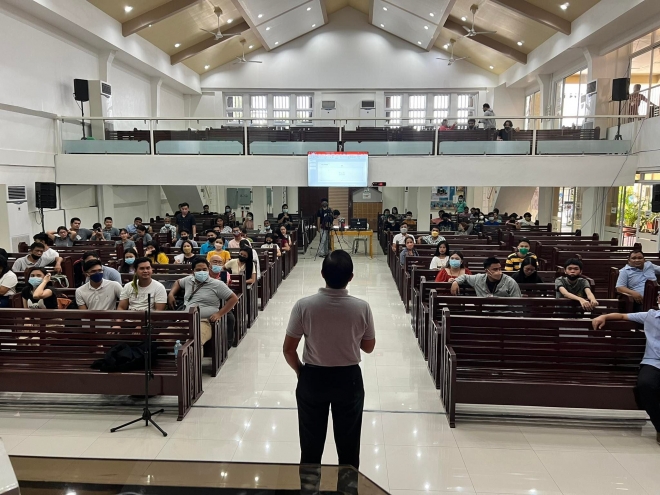 Tagum City, Davao del Norte- Northern Davao Mission prepares and enhances its media broadcast teams from different districts through the conduct of two-day Adventist Media Training Seminar Workshop, held at Tagum Central Church on March 18-19, 2022.
With more than 137 media delegates from Davao de Oro, Davao del Norte and Davao Oriental, Pastor Nelson Paulo, SSD Adventist Media Services Director spearheaded the workshop. Pastor Roxie Pido, the SPUC Communication Director and Dr. Daryl Gay Tanamal, the SSD Associate Treasurer were also present at the workshop.
It was a series of lecture, practical application of the inputs and actual performance. It indeed calibrated the quality of media production teams around NDM.
Pastor EM Vladimir Undalok, the Communication Director of Northern Davao Mission emphasized the importance of becoming an effective media practitioner. He elaborated that technology and media plays vital role in reaching all corners of the world communicating messages of hope and comprehendible truth about Jesus Christ.
During the concluding day, Pastor Paulo imparted essential characters of becoming an effective God's mouthpiece in the field of radio and television. He also encouraged everyone to utilize studio teleprompter when facing the camera.
Truly, it was a productive workshop that helped delegates to grasp up-to-date media presentations. Indeed, attendees felt the presence of Jesus Christ and the need to take part in the mission of the Church through the media ministry. "Dalaygon ang Dios."
Our Beliefs
Seventh-day Adventist beliefs are meant to permeate your whole life. Growing out of scriptures that paint a compelling portrait of God, you are invited to explore, experience and know the One who desires to make us whole.