The official newsletter of the South Philippine Union Conference the Seventh-day Adventist church
Pr. Pido takes the wheel of the Communication Department and Pr. Taotao leads the 1000 Missionary Movement in SPUC!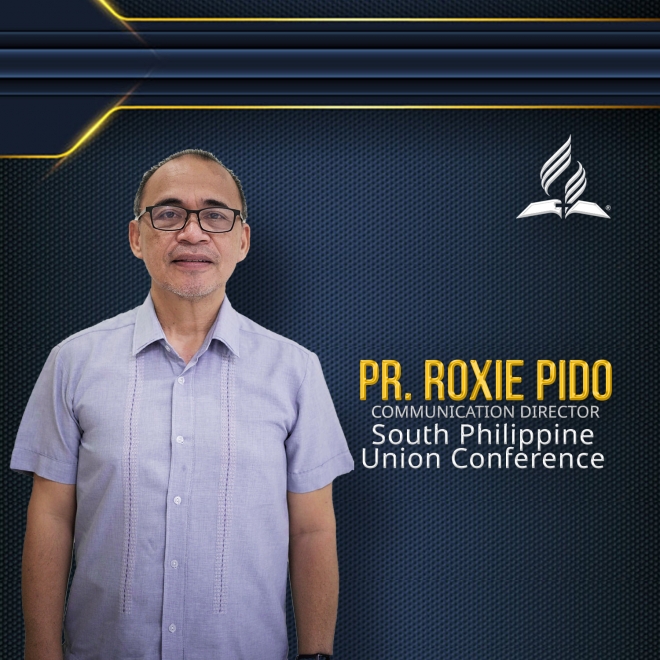 Pr. Roxie Joy Pido started as an assistant urban evangelist in Cagayan de Oro City after his graduation from college. To bolster his urban ministry assignment, he also worked as a news contributor/writer for Gold Star Mindanao, the one and only daily newspaper then in Northern Mindanao. He was elected as the only Tri-Union delegate to Far Eastern Division, now the Southern Asia Pacific Division, Youth Council Meeting in Singapore in 1991. He also served as Bible and Social Science Instructor at Adventist University of the Philippines for almost ten years. 
Prior to his present appointment from 2012 to 2021, he worked as Religion and Philosophy Instructor at South Philippine Adventist College while at the same time serving as its Recruitment and Advancement Director. He also managed the publication department of South Philippine Adventist College whose scope of work covers the college website, Facebook page/social media account, media center, and the students' official publications. He also served as Church Pastor of Managa Seventh-day Adventist Church in Matanao, Davao del Sur while working in SPAC. 
Pastor Pido was once the editor-in-chief of the official student publication of Mountain View College, The Views in 1990. He also co-authored a college textbook in philosophy (In Search Of Meaning) published in 2012.
At present, he is the newly elected Communication Director of the South Philippine Union Conference. 
Another servant who is called for a meaningful service at the 1000 Missionary Movement, is Pr. Demetrio Taotao. 
His calling to the ministry started in 1988 as the Health and Home Sales Representative in Davao City. Another opportunity of service was opened for him when he became the Assistant Publishing Director, and eventually became the Associate Publishing Director at the Home Health and Education Service of the Philippine Publishing House. 
God's wonderful plan for him is very unpredictable. From Davao City, he was called to the Thailand Adventist Mission as Publishing Director, where he worked as a Publishing Director for six years, from 2011-2017, while at the same time doing the pastoral work in Yanhee Hospital SDA International Church in Bangkok, Thailand.  
After six years of serving the soil of Thailand Adventist Mission, he came back to North Central Mindanao Conference in Cagayan de Oro City and served as a Church Pastor in Lumbia SDA Church, Lumbia, Cagayan de Oro City.  After a year, he was then given another interesting assignment as Dean and Instructor of Literature Ministry Seminary inside the SPUC Compound from 2017 to 2021. 
Today, he is the new 1000 Missionary Movement Coordinator assigned in South Philippine Union Conference territory.
Our Beliefs
Seventh-day Adventist beliefs are meant to permeate your whole life. Growing out of scriptures that paint a compelling portrait of God, you are invited to explore, experience and know the One who desires to make us whole.